Heat Exchangers for Telecom/Exterior Use
Our HTX Series exterior heat exchangers have enhanced features that ensure proper operations in both telecom and industrial environments that may be exposed to harsh ambient conditions.
For years, the telecom industry has experienced leaks in their heat exchangers due to inappropriate design and/or lack of maintenance. Unlike other heat exchangers on the market for exterior use, VoltAire's patent-pending rainwater deflector significantly reduces the amount of water intrusion into the ambient airflow path of the heat exchanger.


UL Recognized
Closed-loop certified NEMA 4 (4X) cooling for outside plant applications
Fan speed and alarm control board (48VDC models only)
Two standard designs: Telecom and Industrial
Patent pending rain guard deflector on HTX models
High-performance centrifugal fans
Epoxy-coated aluminum cross-flow core
Designed in accordance with GR-487 specifications
Stainless steel hardware
Powder coated aluminum cover
Corrosion resistant Acrylume enclosure
Stainless steel cover
Fan on/off temperature control (115/230VAC Models)
Custom Paint Finishes
Radio base stations
Telecom shelters and indoor / outdoor OSP cabinets
Network switching rooms and computer rooms
Automation control cabinets, process control centers
Power distribution cabinets
Digital advertisement boards, kiosk display systems
Power supply cabinets, battery cabinets, and rectifier cabinets
CNC machines
Drive cabinets
Mining equipment
Solar cabinets
HTX Series Patent Pending Rain Guard Deflector and Cover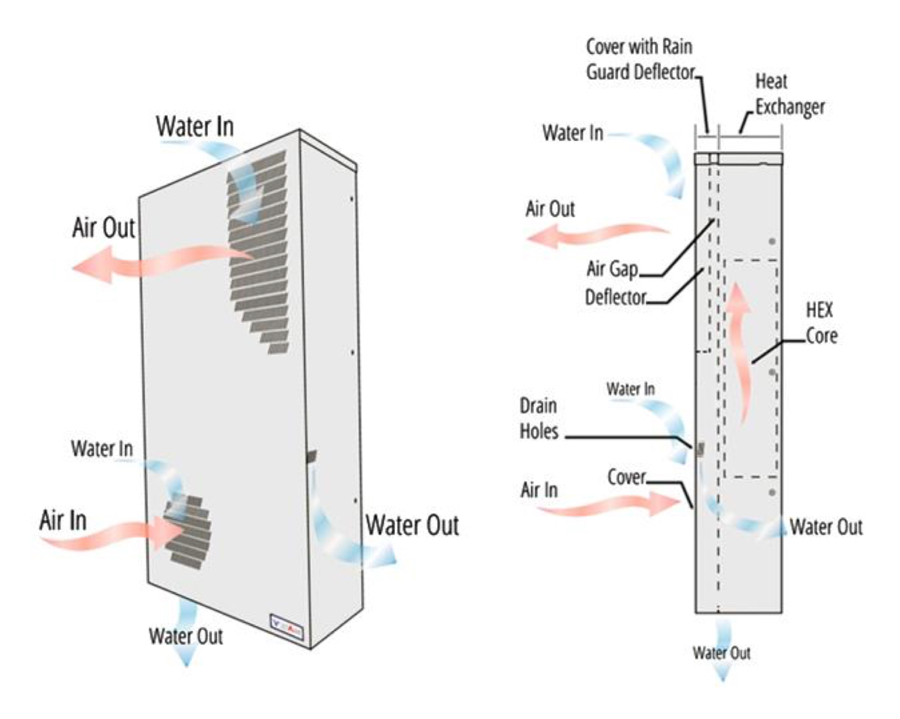 VoltAire Systems unique Telecom Series of heat exchangers utilize a patent pending rain guard deflector and cover to minimize water entering the unit and core. Other manufacturers use their heat exchanger's core as the only path of draining rainwater that enters the heat exchanger, whereas we designed the cover and rain guard deflector to significantly reduce the amount of rainwater that enters the core in the first place, by approximately 95%, while having negligible impact on capacity!
So although our HTX series is UL Listed for Type 3R enclosure by UL, the addition of the rain guard deflector and cover provides additional protection from water intrusion, and we've made it standard.
Model
H*X18
H*X25
H*X35
H*X45
H*X55
Performance
Cooling Capacity
18W/F- 33W/C
25W/F- 45W/C
35W/F-63W/C
45W/F-81W/C
55W/F-99W/C
Operation Temperature (°F / °C)
-40 to 158 / -40 to 70
Sound at 3m (dBa)
60
61
64
65
68
Electrical Data
Voltage Input
Current Draw (Amps)
48 VDC
1.5
1.5
3.1
3.1
4.3
115 VDC (50/60Hz)
0.5
0.5
3.4
3.4
3.5
230 VDC (50/60Hz)
0.5
0.5
0.9
1.9
1.9
Unit Dimensions
Height (in/mm)
22.8 / 579

35.5 / 902
Width (in/mm)
11.8 / 300
17.6 / 447
Depth (in/mm)
HTX
6.3 / 160
6..8 / 17.3
6.8 / 173
8.0 / 203
10.0 / 254
HIX
4.8 / 122
5.3 / 135
5.3 / 135
6.5 / 165
8.5 / 216
Weight (lbs/kg)
HTX
22.7 / 10.3
23.6 / 10.7
44.9 / 20.4
49.1 / 22.3
51.8 / 23.5
HIX
19.2 / 8. 7
20.1 / 9.1
40.3 / 18.3
45.6 / 20.7
47.5 / 21.5